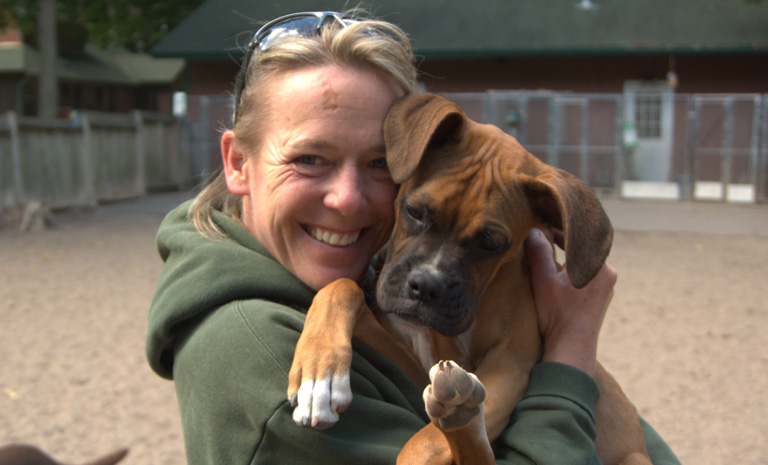 Tory Kretsch
E-mail:
Tory@dogpaddogs.com
About the owner: Tory Kretsch
Tory comes by her love of dogs naturally. Her parents bred showed and hunted Irish Setters, Labradors, English Setters and English Pointers. She grew up with 12 dogs around the house and thought she wouldn't own a dog when she grew up. Look at her now: Dog Pad "Where Dogs Can Be Dogs" has been open for 18 years and she currently has 6 dogs of her own (German Shorthair Pointers and Redbone Coonhounds). Her dogs home turf is separated from the doggie daycare and boarding area via invisible fencing. Since Tory lives on the property she is on-call for her canine guests 24 hours a day. Dog Pad is connected to her home via closed-circuit television cameras to alert her of issues or concerns with the dogs any time of the day or night.
Tory says after being a Biomedical Engineer for 8 years and working long hours, leaving her own dogs at home alone was the main inspiration for Dog Pad Inc. After leaving her "Real Job" she did a trial run at managing a kennel and loved it but knew there had to be a way to get the dogs more interaction and exercise then leash walks. This is why Dog Pad Inc. is 100% cage free and all new canine clients must come for a tour prior to booking. After Tory who can read dogs temperaments very well meets her canine clients it is game on let "Dogs Be Dogs".
She says both she and the animals all have fun. It can be a little hectic in the mornings when the dogs first arrive and are full of energy. But by the time the afternoon bus drivers arrive to take them home after a full day of play they are "dog tired".